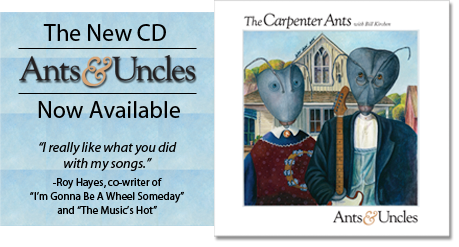 We are particularly proud of this CD – the music, the production and the packaging. West Virginia influences abound on Ants & Uncles, from the initial recording (at Charleston native Wayne Moss' legendary Cinderella Studio) to the cover art (an original painting by our talented friend Leesa Chenoweth.)
The 14 tracks feature what we feel is our most interesting collection of tunes to date. A number of new originals that range from our paean to WV's favorite illegal beverage ("Moonshine"), our "coming of age in WV" song ("They Want Your Monkey") to the sing-a-long "Ants in Your Pants" and the gospel "It's a Blessing." Covers include Fats Domino's "Big Wheel," LaVern Baker's "Bumblebee," the Curtis Mayfield-sounding "Nobody Can Turn Me Around" and the Staple Singers' "Whicha Way Did It Go," which commemorated Hank Aaron's 715th home run – besting Babe Ruth's record. Click here to read more.
Once again, our friend Don Dixon engineered, produced and added sundry instruments, spreading his "fairy dust" on almost every tune. Bill Kirchen, another longtime friend – who just happens to be one of our favorite guitarists – played on the entire CD and left his stamp on every tune.
We recorded the basic tracks at Cinderella Studios, Nashville's oldest, continuously operating recording studio. By no coincidence, the studio is owned by Charleston native Wayne Moss. Wayne is nothing short of a legend among musicians. He played the signature guitar intro on Roy Orbison's hit "Pretty Woman," the amazing guitar solo on Waylon Jennings' "The Only Daddy That'll Walk the Line," and played on seminal Dylan LPs like Blonde on Blonde. He was also the bassist in the Hee Haw house band for 15 years (under the direction of harmonica legend – and Fayetteville native – Charlie McCoy).
Other guests include:
• John Deaderick (keyboards). John is a Charleston native who has toured with the Dixie Chicks, Patty Griffin and Michael McDonald. Most recently he was out with Alison Krauss.
• Russ Hicks (pedal steel). Born in Oak Hill, Russ is a veteran of hundreds of Nashville recording sessions who was in the Hee Haw house band with Wayne Moss and Charlie McCoy.
• Jerry Douglas. Perhaps the best dobro player in the world, Jerry happened to hear John Deaderick listening to some of the CD's tracks while on the road with Alison Krauss. He liked what he heard and offered to play on the record. You can hear him playing lap steel on the gospel tune "He Saved My Soul." Jerry wasn't born in WV, but has enough relatives in the Fayetteville area to be a certified hillbilly.
Buy it now! $15 + $2 s/h
"Ants & Uncles" reviewed at yahoo.com:

The Carpenter Ants: Ants & Uncles (Alpo Records)  A moment here to make note of a wonderful record from Charleston, West Virginia's Carpenter Ants--a fine, long-lived super-musicianly unit exploring those peculiar regions where blues, country and gospel music intersect--back here with special guest guitarist Bill Kirchin (whose work with Commander Cody long ago remains highly revered) for 16 tracks of memorable, high-quality material. Also present: legendary dobro player Jerry Douglas and producer Don Dixon. The band's interesting links with some of popular music's greatest unknown heroes, like former NRBQ guitarist Steve Ferguson (to whom the final track is dedicated) and similarly departed Brit songsmith Kevin Coyne (whose voice can be heard at the end of one track), should signal that they're a cut above the ordinary; looking forward to seeing them at this year's SXSW fest.